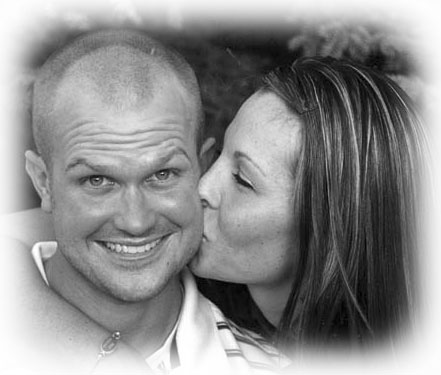 It was August of 2003 when Jonny and Amylee saw each other for the first time. They were at a church activity for their ward in Salt Lake City, Utah, playing "Ultimate Frisbee". Amylee had just moved there and did not know anyone, but was chosen to be a captain and told to pick a team. The first pick for her ultimate team was a boy she called "Squatting Boy", because at the time she was picking the teams, Jonny was squatting. That was the beginning of it all.
They began to hang out casually as friends and finally in mid-March of 2004, Jonny decided "no guts, no glory" and asked Amylee out for a date. By the end of their first date, Jonny thought to himself, "huh, things are going rather well, I think I will steal a kiss". To Amylee's surprise, she actually enjoyed the kiss. Amylee, Jonny and a friend Nic, had become what people called the 3 musketeers. hanging out all the time. Jonny and Amylee also continued to casually date. After waiting patiently for a month, to Jonny's delight, Amylee told him she wanted to date seriously. This serious dating was done discretely for weeks before many friends and even family knew.
Amylee was helping her best friend plan her wedding, which meant marriage was on the mind. After a date on June 4th, Jonny and Amylee sat in the car in front of Jonny's house talking for hours. Jonny's mind was racing with thoughts of marriage. After much contemplation and arguing with himself, he worked up the courage to whisper to Amylee, "I want to marry you". With tears of joy, Amylee said "Yes".
Within a week, planning had begun (it was a secret from friends until the official proposal with the ring).
In July, Amylee left for California for a visit with family and to teach at a ballet summer camp. It was only for a month, but felt like forever for the two to be apart. Finally August 1st arrived and Jonny hurried to the airport, anxiously awaiting the return of his bride to be. When she arrived, the two embraced with excitement and love. After walking to the car, having the ring burning a hole in his pocket, Jonny could no longer wait. He presented the ring to his love. The two have been planning and WAITING for October 22, when as they say, they will...

"live happily ever after".